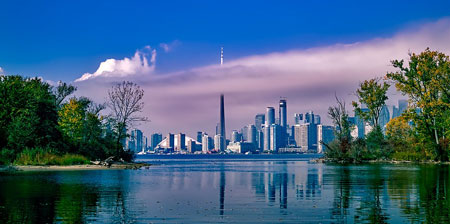 Toronto has been voted as the best city in the world to live in by top publications such as the Economist. Is Toronto also the perfect place to learn English? We asked students from LSI Toronto to give their opinions. Brazilian Tiago Varella and Jeonghyeon Choi from Korea share their thoughts below:
"Toronto is a great city for people who want to learn or improve their English skills. The cost of living is cheaper than in other English speaking countries like England and the USA. Toronto is also a multicultural city, so you get the chance to listen to many different accents. Perfect for learning English! So what are the other advantages of going to Toronto?
First of all, the city is very safe with a low crime rate and trustworthy people. In addition, the infrastructure is outstanding with a very efficient transport system. The weekly and monthly Metro Pass ensures easy access. You can take the subway, bus or streetcar as many times as you want without having to pay extra for each journey.
Furthermore, in your spare time, you can enjoy the many different restaurants, parks and festivals during the summer. In the winter when the weather is cold, the city is a good option for people who like winter sports or want to experience snow. On the flip side, the winter weather can be tough for some people who are used to warm climates.
Overall, Toronto is definitely one of the most interesting and worthwhile cities to take an English course in. Besides learning the language, you can enjoy the urban lifestyle and have contact with many different cultures in this cosmopolitan city. Toronto is definitely a melting pot that connects you with the world all in the one place, and English is your powerful tool in a once in a lifetime experience!"
Clearly Tiago and Jeonghyeon  enjoyed their time in Toronto. Why not find out more about studying at LSI Toronto?