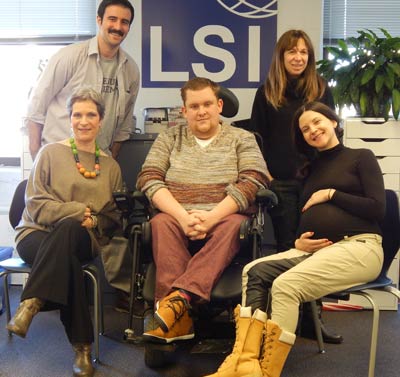 LSI New York have recently played host to student Dennis Bliek. Mr. Bliek, a sports-marketing professional from the Netherlands, chose LSI NYC very carefully: as he is confined to a wheelchair, his options for language schools are more limited than many international students. LSI's accessibility was, therefore, a big factor in his choice of our school. Victoria Reis, the assistant director at LSI New York, talked briefly with Mr. Bliek about his experience here at LSI and NYC. The following is a transcript of their conversation.
VR: How did you hear about our school?
DB: I had planned to come to America for years, and I wanted to combine my trip with some kind of course, an English course or a business course. I was always in love with NYC, as well. So I searched on the internet, found your school, and got in contact—that's how I got here.
VR: How's your experience been so far?
DB: The first week was a little unsure—I wasn't sure which way I was going, left or right. But now, I've gotten used to NYC and feel very comfortable here. As for my classes, the level of English in class is such that you learn every day. In general, I'm very happy with my course; very satisfied.
VR: Tell me more about the experience in light of your particular situation, being in a wheelchair.
DB: First of all, of course, I need to be able to get into the building; there can't be any bumps [steps.] Your building meets this criteria. Furthermore, here at LSI, if there's a door I can't open, there is always someone helping me out—guards or other students. So it's been very easy for me to get around. Also, in the classroom, there is always a podium that I can use as a desk.
VR: How about getting around in NYC? How's that been?
DB: Before I came, I did a lot of research about public transport. NYC itself is pretty good, even compared to Amsterdam. If there's any bump, they put a ramp here in NYC. Also, people here ask me if they can help me with anything way more than they do in Holland.
VR: That's great! So would you recommend LSI NYC to other students in your position—that is, other students in wheelchairs?
DB: Definitely!