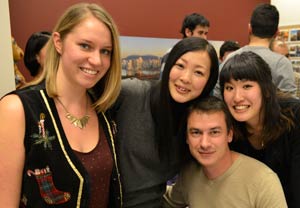 This year we have an extra special 'Gift' at LSI Vancouver. His name is Freddy.
Freddy was a student with us in the springtime. He is a commercial pilot and an all round great guy. He made a lot of close friends when he was here.
During the summer Freddy was on a layover in Johannesburg, South Africa, with his flight crew, when something happened that changed his life forever.
As they were walking along a small African boy suddenly ran into the road just in front of a large truck. Without having time to think Freddy ran into the road caught the boy in his arms…but was hit by the truck and flew 15 metres in the air. The boy suffered a very badly smashed arm. Freddy was not so lucky. His back was broken and he had many other serious injuries. He was dead in the ambulance for 11 seconds before paramedics managed to use CPR to revive him.
Freddy was in hospital and rehabilitation for many months. One of his friends contacted everyone Freddy knows soon after the accident to explain the situation. We were all very upset. Some LSI Vancouver students who knew Freddy from his time here made a video for him in the hospital. On the video we all said that we wished him a speedy recovery and that we were all so proud of him.
These special friends helped Freddy to return to Vancouver this week. He can walk slowly and I am sure that he is often in pain – but his smile is from ear to ear. He is staying at one of the student's apartment while he is here and we now have Freddy back in class for two weeks!
At our Christmas Party this year we are all going to have a potluck lunch where everyone eats together, then we will have a special demonstration of Japanese Culture from Morioka in Northern Japan, and finally we all sing Christmas songs and hopefully Santa Claus will hear us and come!
This year everyone gets a very special gift – the gift of life. In this case Freddy's life. LSI wants to say "Thank You" to all the wonderful LSI Vancouver students who made this trip possible.
Please take just a moment in your busy schedule to think about how precious life is. Take a moment to hug all of your friends and everyone in your family – extra tight. This year we have an extra special 'Gift' at LSI Vancouver. His name is Freddy.
Merry Christmas!