Swedish student Johanna Hallin spent two months studying English at LSI London Central and wished to have her thoughts about her stay published here on the LSI Blog. The 22 year old student had travelled to the UK in March with the intention of improving her English for her job.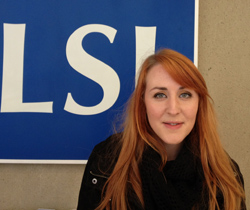 ""Going to London and to LSI was absolutely the best choice I've ever made. Not only did I learn a lot of English, met a lot of people and saw the city but I learned about other countries because of the multicultural environment in the city and school.
I got to meet a lot of wonderful people I'm sure I would never have met in Sweden and because I travelled by myself I got to know myself so much better. LSI as a school is really great, the staff is great and they really do everything to meet all your expectations, everything from the fun Social Programme to helping you if you have any troubles.
The School has the best location in the middle of the city off Tottenham Court Road so after school you can walk to Oxford Circus or Piccadilly Circus. The premises are really clean and bright and soon they'll have a new study room with computers and books etc. WiFi is free in the whole building and you can borrow a computer as well.
The atmosphere in the school is really great and everybody, including the students, is really welcoming and nice.
I made a lot of friends in the two months I was there and it wasn't hard at all to get to know them. A lot of people are afraid in the beginning because they leave their safe zone in their countries but to be honest the first week is the worst, it's very confusing. But as I said the staff is always there to support you and encourage you . As a personal input, the first week I cried because I was scared the second I cried because I knew I had to leave sooner or later.
I promise you that coming to LSI is something you'll never forget or regret. So if you want to try to live abroad, studying at LSI is the best choice."