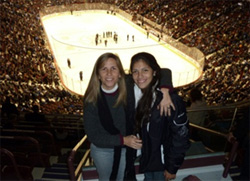 Each NHL  (National Ice Hockey League) season, LSI Vancouver students get to take part in the excitement and the energy inside Rogers Arena (formally GM Place) in one of our 20 seasons' tickets seats, while the Vancouver Canucks battle it out against each visiting opposing team. Last season was an amazing time to be an LSI student in Vancouver because of the run for the Stanley Cup. The enthusiasm for the game grew as we fought hard throughout each round!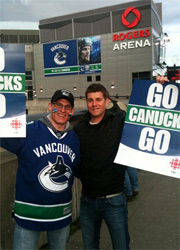 Even during the regular season, it is such a thrilling experience to watch Canada's National Sport: Ice Hockey! The arena is packed with a sea of blue, green, and white, pulsating to the music, cheering on the home team. The sound of the blades tearing across the ice, bodies checking into the boards and the sticks striking the puck make up for an electrifying ambiance, and an unforgettable evening for local Canucks fans and International students alike!
We here at LSI Vancouver are creating International Canucks fans and sending them back to their home countries around the world! Students from abroad are becoming devoted Vancouver fans, purchasing hockey memorabilia (in addition to the maple syrup souvenirs and Canadian flags) and are spreading the hockey love throughout Asia, South America, Europe and the Middle East!  It doesn't matter where you are from. In Vancouver, we are all Canucks.