At LSI we love to hear what motivates our teachers to teach. We asked Anna about her path to CELTA teaching. What makes her story even more interesting is that Anna comes from Russia. She had to learn English before learning to teach it! Now in her role as a CELTA teacher she shows fellow teachers how to teach English.
"Hello! My name is Anna Neil and I am a teacher and the newest teacher trainer on the Cambridge CELTA course at LSI Brighton. I've been teaching English for 7 years and truly enjoy it but my path to this career wasn't a simple one. Nor was it the most obvious one! In fact you could say I've had some career twists and turns on my path to CELTA teaching.
When I first moved to Brighton in 2007 it was to pursue a career in event management. I chose a Master's programme at the University of Brighton. However as a non-native speaker I needed to improve my level of English first. I was determined to pass the Certificate of Advanced English and the IELTS exam which I managed to do successfully within a year. Living in a foreign country and being immersed in its language has made me aware of the experience that students have when learning a language.
Although my previous studies were in the business field I have always been interested in languages. My fascination with linguistics was formed as a student of English and has continued throughout my career as a teacher. After a short career in business, I moved into English teaching, gaining relevant qualifications between 2010-2011. Soon after, I took a job at LSI and have been teaching there ever since.
In addition to teaching classes, I became interested in preparing and delivering teacher development sessions. Since 2011, I have run a number of workshops in-house as well as sessions for the Sussex Director of Studies Association. All these various forms of teacher development have made me realise that I was ready to further my teaching qualifications and gain deeper insights into the profession. I successfully completed a Diploma in TESOL in 2015 and have recently finished training to become a teacher trainer on LSI's CELTA courses in Brighton. I am currently teaching on my first CELTA teaching programme.
I've found teaching to be a very rewarding and inspiring job. As a teacher I try to plan dynamic and interactive lessons. I have a particular interest in using technology in class as it allows me to achieve this. I believe that on going professional development is an essential part of any job. As such I would encourage all my fellow teachers to never stop learning."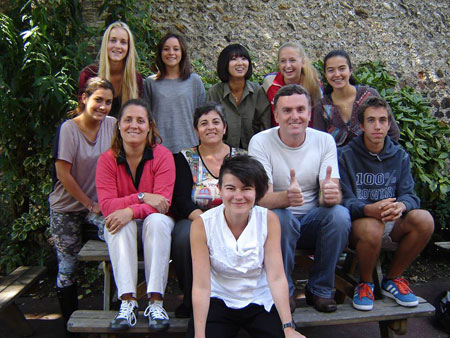 Find out more about LSI Brighton's CELTA training courses.