LSI's English programmes for junior and teenagers have become increasingly popular. Alongside our already established programmes in Vancouver, Toronto, Boston, New York, San Diego, Berkeley, Cambridge and Brighton, we will be operating a second junior programme in London this summer. We will continue to run our highly successful programme English for teenagers in London Hampstead (for ages 12 to 17) and our English for juniors programme (for ages 7 to 1 1). In addition, we are now offering a programme for teenagers (13 to 17 years) in Ealing, West London.
English for Teenagers in London Ealing
This summer the programme will take place at Ealing Green College just 10 minutes walk from Ealing Broadway Station. Ealing is a pretty, family-oriented, residential area of London, full of cafes, shops and parks. Located in Zone 3, it takes just 20 minutes to reach central London by tube.  The College overlooks Ealing's main park, Walpole Park, and has an onsite canteen. Throughout the building students have access to the free WiFi.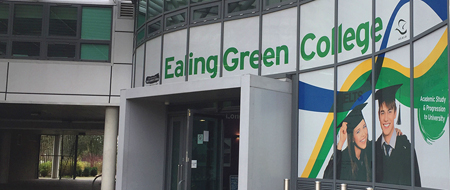 In line with our other programmes, students will receive 20 lessons of English language tuition, accommodation and activities. The schools offers accommodation in twin rooms on a full board basis with local families. In most cases students will be hosted by families who live within walking distance of the college. Often students will be staying The programme also includes afternoon activities, an evening activity and a full day excursion at the weekend.
The programme will run between 26th June and 4th August. Students can book up to 4 weeks on the course. Students will have a placement test on their first day and then placed in a class appropriate to their level. On leaving, each student will also receive a and end of course certificate.