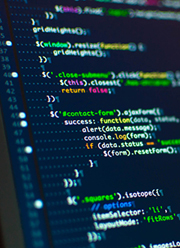 In March LSI New York are launching a brand new course 'Intro to Coding and Intensive English'. LSI will be working in conjunction with TechToTech, the Technology training company which will be providing the programming lessons.
The course combines English lessons with afternoon classes in coding. Aimed at students with little or no experience of coding, the programming classes move at a steady pace, building on a student's confidence with a step-by-step approach. Over eight weeks students get the opportunity to build their own website and develop a smartphone ap. Whilst the 'Intro to Coding & Intensive English' runs for eight weeks, students can book additional weeks of English tuition.
Key Points for our English with Programming Course
Course duration is 8 weeks but possible to extend the English tuition
Choice of 20 or 30 lessons of English tuition per week
Coding classes: Two per week , each class lasting 3 hours
At least two office visits to New York based technology companies
Weekly technology events on the campus
English level: Intermediate level or higher (B1 of the CEFR)
Check out our webpage for more details about the course including dates and prices.