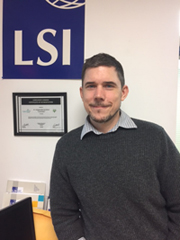 2017 heralds big changes for LSI Toronto. After many years in charge at LSI Toronto, our colleague Linda Walsh took retirement, and LSI appointed a new school director, James Benoit. In the first week back from Christmas, James officially takes the helm at our busy school in Toronto. As way of introduction , we have invited him to share his story and thoughts about teaching.
"It's a pleasure to meet all of you! I have been working in the ESL field since 1999 having accumulated experience as an English teacher in Taiwan for nearly four years and then switching over to education management as an Academic Director in Korea for almost eight years. After living overseas for such a long time, I was fortunate enough to have the opportunity to work back in Canada at EF Toronto as both the Academic Director and the Interim School Director for around four years.
I am now very pleased to move in to a more permanent position as a School Director at LSI Toronto, as it will allow me to gain further experience in managing a school and leading a team. Everyone both at the school and in the company at large has been very welcoming, supportive and helpful, and I feel confident that we will be able to make some very positive improvements on all fronts as we grow in the coming years.
I truly love working in this field, as it allows me to work with a diverse array of cultures and peoples stemming from all walks of life. It has also provided me with an opportunity to gain very worthwhile experience in education, management, human resources, finance and operations, and I hope that I will be able to transplant these skills to LSI and make valuable contributions to this company in my role. I sincerely look forward to working with all of you either as students or as colleagues!"