We always love to hear about students who enjoy their time at LSI so much that they decide to come back. LSI Brighton school director, Rachel Vallins, talked to one student, Eduardo Vera Abad, who has studied at LSI London Central, LSI Brighton and LSI Cambridge to hear about his experiences.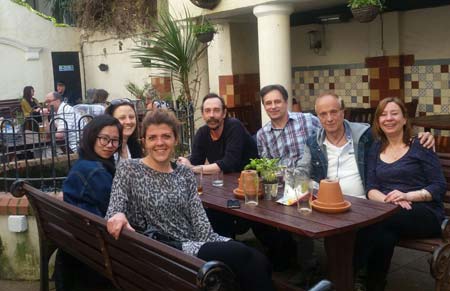 Rachel: So, Eduardo it's your last day at LSI Brighton.
Eduardo: Unfortunately, it's the last day. I would like to stay longer but sadly I have to go back to work. I'm already planning the next trip and of course it's with LSI.
Rachel: Fantastic. How do you feel about leaving?
Eduardo: Well, I have to say I'm happy but at the same time I'm a little sad because I will miss the exciting English lessons,  the teachers,  the students, the ambience of the school, the city and many other things.
Rachel: How did your LSI story start? I believe you went to Cambridge first in 2015.
Eduardo: Yes, the first time was in Cambridge. It's a very nice school. It's a fantastic city – I love the river. I spent a lot of time walking next to the river and also the park. It's lovely.
Rachel: After Cambridge, where did you go next?
Eduardo: I was in London Central, I spent three weeks there. London is a big city so I really needed more time.
Rachel: Why did you choose LSI?
Eduardo: I love travelling but I thought why not learn English at the same time? I think it's never too late to learn a language and as long as I can, I will keep doing it. I will keep coming to England and why not once more to Brighton? Wherever you have a school,  I will go.
Rachel: If you had to compare the three schools, Cambridge, London and Brighton, what's different about them and what's similar?
Eduardo: It's true that even in the same school the teachers are different and have different ways to teach. But I have to say that all my teachers in Cambridge, London and Brighton were lovely, very good and interesting. I couldn't say which school I prefer.
Rachel: I've heard that you want to go to America and possibly some other LSI locations.
Eduardo: Yes, I'm thinking about going to Berkley or New York. I asked for a brochure. I'm planning to do a trip in October.
Rachel: Great. What's the most important thing you've learnt from coming to LSI Brighton?
Eduardo: The vocabulary exercises have helped me a lot to learn more and helped me to remember, it's very important.
Rachel: Thank you very much for this interview Eduardo. We'll miss you.
Eduardo: Me too. I've really enjoyed my time, thank you.