Last week students at LSI Vancouver decided to visit one of the most popular parks in Vancouver, Queen Elizabeth Park. Students had a chance to check out one of the best views in the city from Queen Elizabeth Park! Next they went inside the Bloedel Conservatory to visit with some noisy parrots and enjoy the beautiful plants and flowers. It's totally worth the $5 entrance fee! Later, some of them decided to end the day with some delicious beers from around the world. We thought it would be a perfect opportunity to provide you with a bit more information about these activities in Vancouver!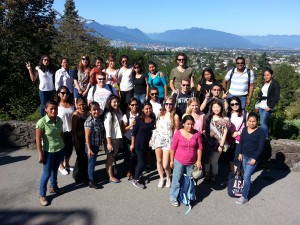 Queen Elizabeth Park:Queen Elizabeth Park, Vancouver's horticultural jewel, is a major draw for floral display enthusiasts and view-seekers, and as a popular backdrop for wedding photos. At 152 metres above sea level, it's the highest point in Vancouver and makes for spectacular views of the park, city, and mountains on the North Shore. The 52-hectare park is home to the stunning Bloedel Conservatory. There is also a gorgeously landscaped quarry garden, the arboretum with its collection of exotic and native trees, sculptures including one by internationally renowned artist Henry Moore, and diverse recreational offerings such as tennis, lawn bowling and pitch & putt. The park is also the perfect setting for fine dining at Seasons in the Park, a picnic or stargazing!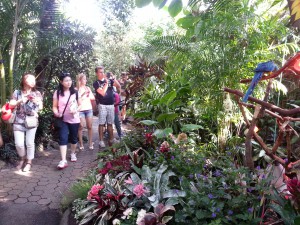 Bloedel Conservatory:Experience the colours and scents of the tropics year-round! Bloedel Conservatory is a domed lush paradise located in Queen Elizabeth Park atop the City of Vancouver's highest point. More than 200 free-flying exotic birds, 500 exotic plants and flowers thrive within its temperature-controlled environment. Constructed through a very generous donation from Prentice Bloedel, Bloedel was dedicated at its opening in 1969 "to a better appreciation and understanding of the world of plants." Designated as a heritage building, it is jointly operated by Vancouver Park Board and the VanDusen Botanical Garden Association. Together, these partners also operate VanDusen Botanical Garden.
Biercraft Restaurant:With 2 locations, Biercraft is a restaurant with an extensive list of over 120 Belgian and Craft beers, local cask beer and a regionally inspired menu of tapas and bistro food. Using local producers and suppliers whenever possible, Biercraft uses the freshest ingredients and supports the local economy.
Vancouver's booming craft-beer industry:Over the past several years, Vancouver has seen a shift in consumption from imported to the less expensive domestic beers and a move away from the brand name beers to beers made by microbreweries. Many microbreweries use the crystal-clear waters of the Rocky Mountains and the rich ingredients produced by BC's mild climate, including hops, barley, honey, yeast, raspberries, cherries and other season fruits which results in fresh-tasting beer with more complex flavors.

The best way to sample Vancouver's locally brewed beers is to visit the many brewpubs around the city.
We'd love the opportunity to introduce you to some more wonderful places in Vancouver – come study with us at LSI Vancouver!