When Ye Yongxiang "Lillianna"  first arrived at LSI London Hampstead over a month ago she stood out as being a very special and talented lady. At the age of only 27 she is the current world champion in Tai Chi (Yang Style). She  won  this prestigious title in the 'International Kung Fu Championship' held in Hong Kong in March this year. Following in the footsteps of both her grandmother and mother (who herself was world champion 20 years ago), Tai Chi has always been a fundamental part of her life. Brought up in Shanghai in a highly educated family imbued with traditional Chinese values, she has been studying Tai Chi from the age of three initially from her mother but then from one of the top masters in Tai Chi.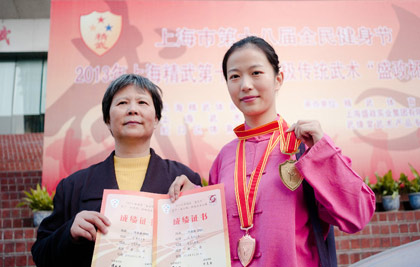 Lillianna uses descriptions such as 'moving yoga' and 'eastern ballet' to try and explain the grace and poise of Tai Chi to complete novices. Despite being  a martial art and thus a contact sport, the emphasis in Tai Chi is in inner strength and controlled movement rather than physical force. It has strong meditative and religious undertones.
"Tai Chi encourages a person to be more reflective, spiritual even.  I feel it helps to give a deeper understanding of life. It's so beneficial too in many ways – it helps to improve your coordination, sense of balance and relieves stress. The only downside  for me is the gruelling training schedule. It leaves very little time for socialising with friends and for relaxation."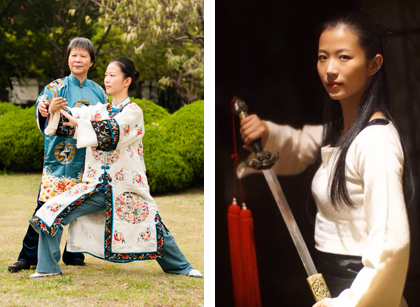 In addition to training, Lillianna teaches Tai Chi to students in Shanghai. Her Tai Chi students are mostly International students and business people. "My plan is to be able to teach at a higher level, maybe even internationally. To do that I need to improve my English. I'm planning to take the IELTs exam and so decided to enrol on a course at LSI London Hampstead. Being here in some ways has been a bit of a holiday. It has meant that  I haven't been able to do all my usual training so I have spent more time with fellow students".
Lillianna kindly agreed to give a demonstration lesson to her fellow students and teachers. After the initial warm up, Lilliana performed some classic Tai Chi movements. Then, before her enraptured audience she taught some basic Tai Chi movements. If you want to catch some clips of the class , check out our Tai Chi Class video.