It is with sadness that LSI says goodbye to Mariló Sanchez from our Marketing team. Mariló, who hails from sunny Andalucía, first started working for LSI back in September 2008 in the reception at LSI London Central. London Central is perhaps the busiest of all the LSI schools so it was a very hard training ground indeed but one that Mariló passed with flying colours and was invited to join the marketing team in 2011. Initially she worked and travelled in Europe and Russia where her amazing linguistic skills (she speaks French, Spanish, Italian and English fluently) were regularly called upon. More recently Mariló has also worked for LSI in Brazil.
"I have loved my time at LSI. I have met so many great people from all around the world, both clients and colleagues, and have had the chance to travel to some amazing places. I enjoyed visiting all the LSI schools, with the exception of Auckland, and meeting so many colleagues who have now become firm friends and who I will definitely keep in touch with."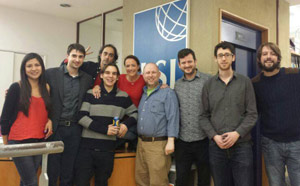 Mariló now takes on a new challenge with Brookfields, an international relocation company, where her excellent interpersonal skills will be put to good use. Stepping into her shoes in Marketing is fellow Andalucian, Carmelo Gonzalez, who has been working as part of our administration team for the last year. Carmelo has already had the opportunity to get some amazing on the job training shadowing Mariló on her final 3 week marketing trip to Brazil.
"It was hard work but great fun and I felt I learnt a lot from Mariló . I'm really looking forward to my new role."
Funny and charming, Carmelo is sure to flourish in our Marketing Team.