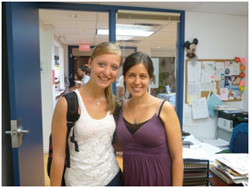 Here's a testimonial from one of our students who studied at LSI Toronto , Helen Wrona from Germany – Helen took a 4 week Intensive 30 programme with TOEFL exam preparation – thank you for your testimonial Helen!
"My parents and I decided very spontaneously to book an English course 4 days before I flew to Toronto and it was incredible how everything worked out.  I got my host family within two days and it was the perfect host family, which gave me everything I needed.  I needed a preparation for the TOEFL iBT.  LSI offered a TOEFL course that I could join one day after I arrived.  LSI offered everything I needed and was the best choice I could make.  The teachers are very friendly, open minded, and attentive and solve every problem of their students.  The teacher's attitude transfers to their student's mood and creates a very comfortable atmosphere.  Students integrate and find new friends from all over the world, very quickly. 
With all the activities LSI offers I had the possibility to get to know Toronto and its most beautiful places, for example, Toronto Island, the Distillery historic district, Woodbine beach, and a lot of inexpensive and very special restaurants.  It is possible to experience a lot of memorable and affordable trips, like a trip to Niagara Falls and French Canadian cities.
Thanks to my teachers, especially my perfect, organized TOEFL teacher.  We learned the best tips for the test and at the same time had a lot of fun. Thanks also to Jazmin and Linda who helped me a lot.  I will never forget my spontaneous trip to Toronto and will highly recommend LSI to everyone because it made my trip memorable.  I hope LSI Toronto will continue like this, so that many students from all over the world can have similar positive experiences."
Here is a photo of Helen (on the left) with Jazmin, our Assistant Director!