After 20 years working at various LSI schools, David Hughes is now reaching the end of his last week as the school director for LSI New York. Whilst it will be hard for LSI to see him go, we wish him all the best for his exciting new plans for the future. Here David tells us a little more about the wonderful years he has spent at LSI.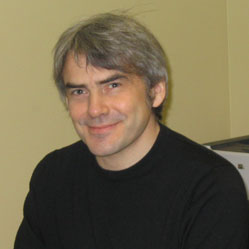 "How long do you think you will stay at your next job? A year, three years? More? Well, when I started teaching at LSI Vancouver twenty years ago, I thought I would stay for a little while and then move on. After all, I had never lived in the same house for more than three years, and I'd just come back to Canada after five years of teaching English in Tokyo, Tunis and Barcelona. Vancouver was nice, but I didn't expect to be there for very long. And I was right. Less than two years later, I agreed to move out to Toronto to open LSI's second Canadian school. The plan was to supervise that project, hire teachers and staff, then hire a permanent Director and come back to Vancouver after about six months… HA!!"
"A year went by. I assembled every kind of school furniture you can imagine, hired a group of teachers and staff that are still among my good friends, typed invoices, responded to faxes and sent confirmations by Canada post. We leased more space in the building. Three years went by. I assembled more desks. I bought a Compaq computer for $1200 and Microsoft Office (for $200 or something). I still typed invoices every Friday, but there were rumors of a computer system that would make my Smith-Corona redundant. Once, I rented walls to make additional classrooms in the empty suite next door. We had picnics on Toronto Island in the summer and rented a church refectory for Christmas dinner. We took dozens of students to Niagara Falls, up the CN Tower, and to Canada's Wonderland. We even went skiing in winter until a Brazilian student stepped into his bindings, went backwards through the shop, zipped across the parking lot, over a snow bank and into a tree. Not bad, considering he was registered blind!"
"And so it went on for five or six years. Toronto was growing, the school was doing well. And when the chance came to buy a small building in Rosedale, LSI took it. Busy summer! Two locations, lots of students. More picnics on the island, but fewer nights playing pool at the Pilot. Every day I jumped on the streetcar, rolled past Kensington Market and the University of Toronto. Our teachers were great, the folks in the office really knew what they were doing, and the students were determined to keep things interesting. They studied hard, sure, but they also started a fire in the student lounge, bought old cars and drove to Vancouver, played guitars downstairs, walked to Downsview Park to see the Pope and almost won the first ever Toronto ESL idol contest!"
"And then I heard that Rosemary, the Director in LSI New York, was retiring and that old rambling feeling was awakened. I talked about it with my girlfriend. We decided it was worth a try. She's a visual artist, and a wanderer, too. I asked , and LSI said yes. In December of 2008, I said goodbye to the best group of friends I'd ever had and headed off to the Big Apple, to a house in Queens with a crazy roommate. A year later, Sherri and I got married – in Las Vegas, by Elvis – and she and the cats bundled down from Toronto. No more interrogations at the border for her! Finally, we moved to Bed-Stuy, in Brooklyn – Jay-Z, Chris Rock, Norah Jones and Mike Tyson all lived there when they were kids. Then it was a no-go neighborhood but things have changed here so much. And all for the better."
"LSI New York is a great school. It's got that LSI family feel and the students are extremely cool (of course). We have some good things going with the Metropolitan College of New York, including taking a group of their MBA students to LSI Zurich and London as part of a case study. Every year some of our students enroll there and there's an international student association coming soon. New Yorkers are a nice bunch of people as long as you don't waste their time. And everywhere you go, you feel like you're in a movie."
"But that spell of staying has been broken and I decide that changing cities isn't enough. I have been studying for a Masters in Non-Profit Management offered by the New School University and I'm just about to finish my first semester but come the Fall I want to go full-time. Hence my decision to say a sad farewell to LSI."
"So that's where I'm at. This is my last week at LSI. After twenty years. Who knew? All the best to everyone I have worked with both students and staff."
And all the best to you David from all of LSI. Thanks for everything!