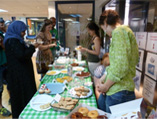 During the week of June 13, 2011, staff and students at LSI Toronto worked together to raise money for earthquake and tsunami relief.
Our staff and teachers cooked a pancake breakfast for the students before class. Staff and students organised a bake sale and we got to enjoy many delicious treats. A 'silent' auction was held and was great fun for all the students. Some of the items bought at the auction included original artwork by some of our staff.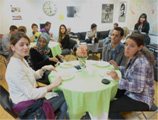 By the end of the week, LSI Toronto had collected CD$572, which was donated to a charity that sends 100% of donations to Japan. We'd like to thank everyone at LSI Toronto for fully supporting our fund raising efforts and for making it such a fun week for all!
Tags: LSI Toronto