At LSI we have always promoted our Multi-Center courses as a unique way to combine travelling the world with study and the opportunity to be exposed to a variety of different cultures. Don't think that just because English is spoken in Australia, Canada, the USA , the UK and New Zealand that our students will have the same experiences wherever they study. Even the language itself can change depending on where you study!
Back in March, the LSI blog featured Japanese student Kayo Yamaguchi as she was leaving the 2010 Winter Olympic host city of Vancouver for sunny San Diego. We caught up with her again in the beginning of May during her last week at LSI San Diego. We were curious how she enjoyed her multi-center experience: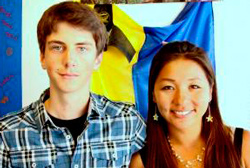 "At first I wanted to go to Vancouver because of the Olympics, but actually I like to stay in hot weather and I wanted to live in California so that is why I decided to move to California after Vancouver. It was a nice decision because I could feel the atmosphere of two countries and compare the two countries. I liked that the student makeup of each school was different. It was very interesting for me to meet people from so many different countries."
Kayo explained her reasons for learning English:
"I'd like to study at university using my English. I want to study sports management which is why I went to the Olympic city of Vancouver. I am going to study in the UK since London is hosting the next Olympics in 2012."
From what Kayo was saying it seems we may be seeing her sometime soon at one of our London schools, LSI London Central or LSI London Hampstead.