Congratulations to Jonathan Goldberg for coming second place in the regional East Anglia Trophy meeting! Jonathan only took up go-karting two years ago and  regulary competes for his local club (AS Kartland, Nelun) in the 125 gearbox category.
"My parents were always worried about how aggressively I used to drive on the roads and so they were really happy when I took up go-karting as I can now take my aggression out on the track."
When Jonathan finished his masters in marketing and business last year he knew he needed to improve his English to enhance his job prospects. However , whilst he was able to leave family and friends behind in France during his 5 month course at London Hampstead,  his precious go-kart just had to come with him. Even choosing accommodation proved to be problematic as he needed to have access to a garage where he could store his go-kart.
It seems Jonathan is a one man team fulfilling the role of  mechanic, engineer and of course driver. "To win you need to be lucky, have achieved the best setting for the chassis, and maybe have a little bit of skill and courage,"  he stated modestly.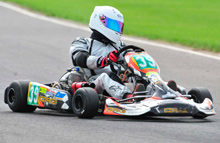 The competition took place over two days at Hunts Kart Racing Club, near Kimbolton, Cambridgeshire. With over 200 competitors this is a popular meeting. In the 125 gearbox category ten people were competing. During  the qualifying and heat 1 rounds , Jonathan did not get off to a flying start.  After  a poor time in the qualifiers , he was only able to line up on sixth position of the grid for Heat 1. 
"The first day was a really bad day. In Heat 1 I had my worst crash ever when I swerved to avoid a car in front that had spun after a slight collision. It forced me onto the grass at 100 mph. I was lucky that all I did was to bruise my back but I ruined my steering column and had to buy another so I could be ready to compete the next day. I felt really depressed by the end of Saturday but I was determined to do better the next day"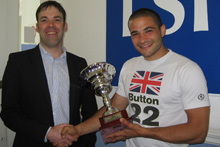 Due to the accident Jonathan had been unable to finish Heat 1 and therefore was only placed eighth on the grid for Heat 2 . Jonathan though had the ride of his life moving up into third. Similarly in the pre-final Jonathan finished the race second having started sixth on the grid. In the final, lining up second on the grid , Jonathan felt very confident and was able to maintain his position to win second overall position in the 125 gearbox category.
Speaking to school director Greg Wickline about his recent success, Jonathan claimed, "I am so happy to have won this trophy. When I go home to France I am going to give it to my father. If it wasn't for his encouragement I wouldn't still be go-karting.I feel so lucky."