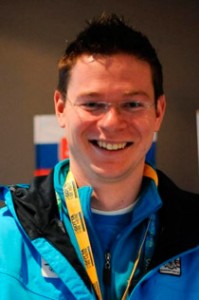 My journey as a volunteer for the 2010 Winter Olympic Games (WOG) in Vancouver  all began when I talked to my LSI teacher Mia. She came up with the idea to volunteer for WOG . I applied for the position the next day  and then waited for an answer. A couple of months later, whilst I was preparing for my FCE exam at LSI Vancouver, I had an unexpected call. I had been choosen for as a volunteer!
Before the Olympics started I did a couple of training courses. They told me that I would be working in residential services in one of the buildings in the Vancouver Olympic village dealing with everyday athletes' needs and residential issues.
Then the Games started. The atmosphere in the village was amazing. Everybody was nice and there was a smile around every corner. The volunteers did excellent work with lots of positive feedback. Because  I am from the Slovak Republic I was placed in the building with the Slovak athletes. I was so happy: working for WOG and meeting athletes from all over the world, it  could not have been any better. I was living in a dream. During my time in the athletes' village I met many great people from whom I learnt a lot and received a lot of support. I made many good friends and we became like a small family.
Now the Olympics have ended but my journey as a volunteer has not finished yet. I will be working as a chaperon for  the Paralympics for the anti-doping section. I am looking forward to this job too.
At the end I want to thank LSI and all Vancouverites for warmly welcoming me and for the opportunity that they gave me. All of this would not have  happened with out them.