All eyes were on Vancouver recently as Canada hosted the 2010 Winter Olympics. We asked some of our students at LSI Vancouver to give their thoughts about what it was like to live and study in an Olympic city.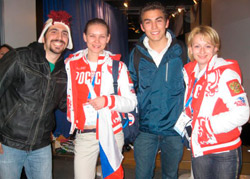 Marvin Muñoz is currently studying for a Cambridge exam (CAE – Certificate for Advanced English ) at LSI Vancouver.
"Being in Vancouver for the Olympics was an amazing experience for me, especially because I am from Mexico so perhaps that will be the only chance I'll ever have to really experience the Olympics from first hand. I even had the opportunity to go to a couple of events (2 hockey games) and I will remember that forever. "
Fellow student Jeongmin Lee from South Korea also enjoyed the experience.
"I saw the opening ceremony of 2010 Vancouver Winter Olympics in a pub with other LSI students. It was really crowded there. It was like when we held the 2002 World Cup in Seoul, Korea. It was such a good experience for me. I am lucky to visit Vancouver during the Olympic season! I will never forget it. Go Canada Go!"
Our next Olympic city will be London in 2012. Can you imagine what it might be like to study at one of our two London schools  (London Central and London Hampstead) whilst the Olympics are on? Judging by the comments from our LSI Vancouver students, it will be an opportunity not to be missed!