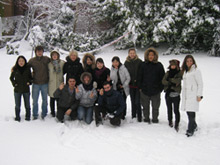 Many visitors to London will know  the UK's capital city benefits from relatively mild Winters. In recent years, this has been increasingly true with well known Spring flowers appearing in February rather than in April. This year though,  has bucked this trend.
In February, London received around 12 cms of snow, turning the city landscape into a beautiful winter wonderland. Unused to such quantities of snow , the London Transport system failed to cope and many LSI teachers and students had to arrive at school on foot. The LSI London Hampstead school luckily has a large garden and our students took advantage of this by indulging in snow ball fights and building a huge snowman.
"I come from a hot country and I don't see snow like this before. I love it. Please snow more," commented an LSI student from Brazil.
"It's not all work here at LSI. It's great to take time out and have fun, " said the LSI London Hampstead school director, Tania Valentin."Plenty of opportunities to learn some different kind of vocabulary for the occasion!"
London has sadly returned to normal after the excitement of the snow, until the next time ………