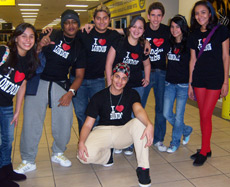 In February 2009, LSI London Hampstead hosted a group of ten students from Panama. For the majority, it was their first time to the UK and they were justifiably excited to live and study in London for four weeks. During their stay, LSI organised an extensive programme of activities for their afternoons and weekends, which included visits to the main attractions in the city (British Museum, Tate Modern, Science Museum, Tower of London), West End Musical nights (We Will Rock You, Wicked) and trips to Windsor Castle, Stonehenge, Bath and even a 3-day trip to Paris.
On their arrival, they had the opportunity to experience a snowy London, which they greatly enjoyed as it was the first time they had seen snow!
On their return to Panama they sent a heartfelt thankyou letter and this picture. They loved their stay so much that they all bought the same t-shirt! Thank you, Panama! We hope to see you soon!