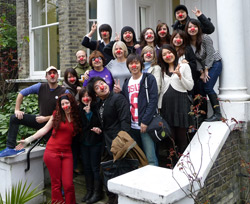 According to an English tradition, Friday the 13th is considered unlucky… but not this year and certainly not for Comic Relief !
Started in the UK in 1985, the international charity Comic Relief is already well known for fund raising for worthwhile social projects mainly in Africa. This year the UK branch of the charity selected the 13th of March as its focal point for a huge gamut of fund raising events. A staggering £60 million pounds was raised !
Following on from Comic Relief's call to Do something funny for money , LSI teachers and  students certainly joined in with the spirit of the occasion.  Donning their red noses, iconic symbols of the charity, students at LSI Hampstead took part in a variety of events aimed at raising money for Comic Relief. The events ranged from fun auctions where students bid for free One to One lessons, to selling an astonishing array of international foods made by the LSI students themselves, to more sedate quizzes where students were asked to identify their teachers from a series of youthful photos. It was an incredible day with much fun being had by all and an amazing £167 was raised during all the havoc and mayhem.
We'd like to say many thanks to the wonderful generosity and spirit of fun of all the teachers and students at LSI Hampstead.