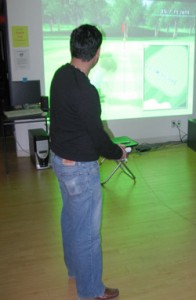 At all our LSI schools we always aim to provide our students with not only an excellent learning environment but also with opportunities to relax and have fun. In our Canadian schools we frequently run our popular movie and games nights. Students get the chance to play interactive games and watch movies whilst getting to know their fellow classmates. It's great fun as our students at LSI Toronto can testify to.
Here, one of our students, Javier from Mexico, focuses on making a-hole in-one. After school, students can play our Nintendo Wii as an alternative to real exercise. With so many sports to choose from you'll ever get bored!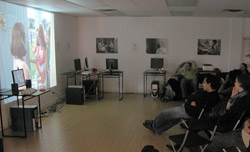 For those students feeling a little less energetic, at LSI Toronto, we organise movie nights once a week in addition to a full weekday social program. Here we have some eager students gathered in front of the big screen to watch "Edward Scissor Hands".Do you have a movie you've been wanting to see? Just ask us, (and provided it's not obscene), we'll get the movie for you and play it after class finishes. At LSI Toronto, there are always plenty of cultural and fun things to do at the end of the school day.