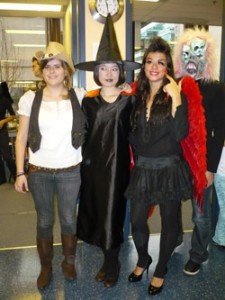 The ghouls and goblins descended on LSI Vancouver on October 31st to celebrate Halloween at LSI's haunted Halloween party. There were activities like pumpkin carving, costume making and even a haunted house!
Students learned about the traditions of Halloween by working with their teachers to organize and run games, activities and a very scary house of horrors for their peers. There were refreshments like chips, drinks and candy (of course!) and lots of great costumes. Some students that didn't bring costumes were dressed up by their classmates using everyday things like string, tape, and even toilet paper with surprising and sometimes hilarious results! Students also put the finishing touches on each other's looks with Halloween makeup and scary hairstyles. Halloween stories were shared, lots of pumpkins were carved and students even bobbed for apples.
Near the end of the day students with the best costumes paraded in front of their classmates for a chance to win prizes – and the admiration of their peers! Since most students had never celebrated Halloween before, it was a great chance for everyone to learn about a fun Canadian tradition!