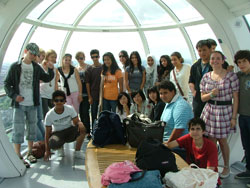 Following on from the success of the Young Learner's course in our Toronto school in 2007, this summer we extended this fantastic programme to one of our UK schools, LSI London Hampstead. This language course, aimed at young people between the ages of 13 to 17, ran between June and August and attracted many eager students from around the world. Carefully designed to provide a balanced mix between formal language classes and informal language learning opportunities via the many social activities offered, the Young Learner's course has proved to be a roaring success in its first season at London Hampstead.
Whilst only a 15 minute tube ride away from the bustling, cosmopolitan centre of London, LSI London Hampstead is located in one on London's most beautiful and wealthy suburbs providing the ideal, tranquil environment for younger students.
"My parents choose this course for me and I wasn't happy to spend all my holiday on a language course instead of being with friends. When I arrived at the course I had so much fun. I made so many new friends and my English improved a lot. I want to go to this school again next summer." Hans, aged 15, from Germany.
Part of the explanation behind the successful introduction of the Young Learner's course to LSI London Hampstead, may lie in the family atmosphere offered in the school. School director, Tania Valentin, offers the following insight – "Many people say that the school feels like a family because of the friendly welcoming atmosphere. We get to know all our students as individuals and are there to provide help and advice whenever needed. I think this is especially important for the younger students. Parents want to know their children are being well looked after."
As a result of the success of the Young Learners' programmes in the UK and Canada, for 2009 we have decided to extend the programme to the USA. In addition to the Young Learners' Programmes at Toronto and London Hampstead, we will be also offering the course at LSI San Diego. Find out more about the Young Learners course for 2009.