We wanted to share this humorous and heartfelt account of one student's experience of studying English at LSI and his reasons behind taking up his studies. It was written by Spanish journalist, Nacho Goicoechea, who has been studying English at LSI Brighton. As you will see from the photos, he's not a bad photographer either! Nacho's story …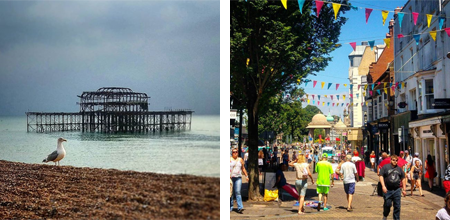 Hello. My name is Nacho, I am 35 years old, and I was a workaholic. I know I'm not in an AA meeting, but if I was, this could well be my opening line. I work in journalism and I owned my own company in Spain, an agency creating tailored content for sports clubs. My life was my work. I would work six days a week, 12 hours a day, leaving me no time for anything else. I had no girlfriend, and barely any spare time to spend with my friends or family. Infact the last time I stopped to blink, I was 30 and using work to recover from a break up.
After five years, I realised that I had to make a change. I needed an excuse to just leave everything behind me and make a fresh start. I suppose that studying English was as good a pretext as any, so I made up my mind and I quit my job. Life, or karma if you prefer, can be hard sometimes. I do have to admit however that it knows how to reward you when you finally learn how to listen. For the first time in ages,  I  began to sleep well. I even had time to  meet an incredible girl, and finally find some peace of mind. So I packed my bags and set off on my new adventure.
I decided to come to Brighton because a friend of mine had lived here for a couple of years . She'd told me what a wonderful place it is and how right she was! Brighton was far enough away for me to forget all my bad work habits, but close enough for the people that I love to come to visit me. I felt the city receive me with open arms. It is so similar to my hometown that I immediately felt at home.
Here, I am facing my fears – it's my first time living abroad, knowing nobody.  I'm outside my comfort zone, constantly challenging myself. Although it may sound like a cliché,  I am doing stuff that I've never attempted in my life before. I've learnt how to carve pumpkins for Halloween. Can you believe I even won the school contest?  I took part in the Christmas Panto (I wanted to die of embarrassment but I did it) and I skated on ice without falling once! I took tea and scones at 5 o'clock with my little finger proudly extended and I enjoyed a football match in the Amex Stadium -go Seagulls! I'm having the time of my life. The most important thing is that I've found myself. So mission accomplished.
Of course my English is improving a lot thanks to some amazing teachers. A special thanks to Justin and Steve who have been very supportive and patient. When I arrived, I wasn't able to write an email or barely make a phone call. Now I'm happy because I have time to read, watch movies and  whole TV series. I spend my weekends walking on the beach, taking photos of the pebbles, the seagulls and my  own personal favourite Brightonian landmark, the old West Pier. The people I've met from all over the world, the places I've been to and all the things I've experienced will always be part of me. Brighton will always be in my heart.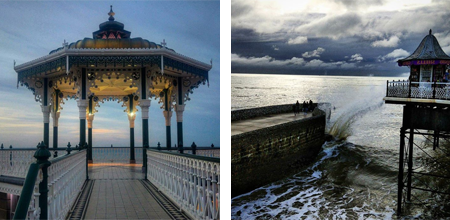 Check out more great photos on  Instagram @nachogoico or out more about studying English at LSI Brighton.