Every year LSI Berkeley celebrates Thanksgiving at the end of November. This is a special day for all Americans when families gather to give thanks and eat a traditional Thanksgiving dinner. Many spend a lot of time cooking and preparing for this feast, which includes a turkey and many other side dishes.
In honor of the holiday, LSI Berkeley decided to host our own Thanksgiving meal, but with an international twist. We held a potluck, a meal where everyone contributes a dish, so that students could share traditional food from their home countries. We had an amazing spread of dishes from ten different countries. Dishes included kimchi fried rice from Korea, falafel from Israel, apple cake from Italy and tea eggs from Taiwan. Students loved getting a chance to try their classmates' home cooking. Some even exchanged recipes so that they could recreate the dishes at home. All in all, it was a really fun event that left everyone very full! We look forward to holding more student potlucks in the future.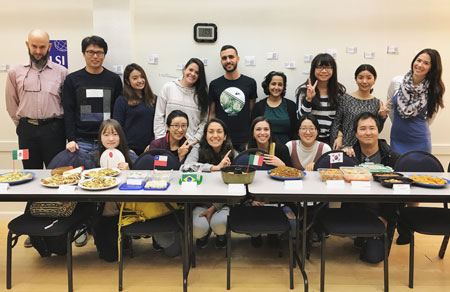 Find out more about other recent events at LSI Berkeley.