The return of swallows to northern skies is usually taken as one of the first signs of summer. At LSI Zurich our swallows return in June every year and they come from Sweden!
For over 15 years LSI Zurich have been hosting Swedish students from STAFFANGYMNASIET, a grammar school in Söderhamn, about 180km north of Uppsala. LSI Zurich director, Ian Cryer met up with the group over lunchtime sandwiches to find out what they thought about the classes and their overall experience with us.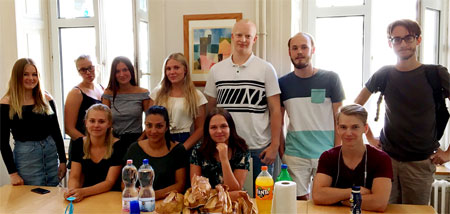 First, how did they find the teaching at LSI? It seems the students were both surprised and challenged by their classes. Apparently teaching in their Swedish school focuses on language recognition, not production. So whilst many of the group could read and understand complex texts, they still had difficulty speaking full sentences. The LSI approach of presenting language items, practising them, then moving on to free production was new and enjoyable. It meant our having to adapt by relocating some of them into lower level classes and their having to adapt by stepping up to the plate.
Only two of the students chose to stay with host families this year. The rest found furnished flats in the Sihlcity area of town about 20 minutes tram ride away from school. While missing out on the built-in language practice that living with a host family provides, they appreciated the independence. This was, after all, their first adventure abroad without adult supervision. Not that they weren't checked up on! During the second week, their school principal and two other members of staff came by to visit. They sat in lessons with their students, recorded feedback and before leaving we discussed how the programme can be fine-tuned next year to make it even more successful.
All in all, a positive experience for everyone involved. We look forward to welcoming more Swedish swallows in June 2018.