At LSI, we love to receive visits from past students. One recent visit at LSI London Hampstead was extra special though. Akiyo and Takashi Yoshinaga were returning to the school after 29 years!
Akiyo and Takashi have more reason than most to remember the school fondly. This was the place where they first met in March 1988 as young students eager to explore the world. At 23, Takashi had just finished his degree in Japan and Akiyo, only 21, was still in her second year. Both viewed the opportunity to study English abroad as part of the common rites of passage that so many of their contemporaries pursued whilst at university.
In 1990, two years after returning to Japan, Akiyo and Takashi got married, and in 1992 they moved to New York for work. This is currently where they live with their two sons. Akiyo works as a music teacher and having completed an MBA, Takashi now runs his own company.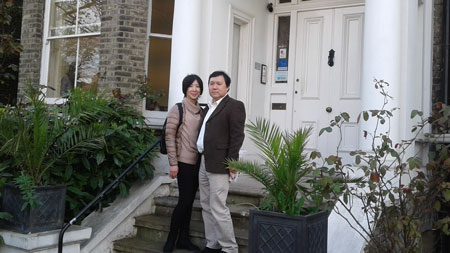 We asked Akiyo and Takashi what they remembered about the school and what has changed.
Takashi: "The school was quite small back then, probably around 40 students, of which 95% were Japanese. We made so many close friends and when we returned to Japan we stayed in touch with them. The teachers were very good but of course the classrooms were a lot more basic back then. Looking around the school now, I can see how everything is far more high tech these days. There seems to be far more facilities and the classrooms are definitely more colourful. From the outside though, the school still looks much the same – the imposing façade and of course the lovely back garden."
Akiyo: "Hampstead has changed too. When we studied here, there wasn't really much to do at lunchtimes. It was quite a sleepy place. There weren't many shops and only one pub that I remember. It's so different now – so many shops, restaurants and bars."
Akiyo also remarked on the changes in London over the decades. "You can still see the lovely old, historic buildings but now parts of London have the tall skyscrapers we are used to in New York. The weather also seems to be better – we've even seen some sunshine!"
It was lovely to see Akiyo and Takashi at LSI London Hampstead. We hope they don't leave it so long for their next visit!