Why do families decide to host LSI students in their home? LSI Paris decided to interview one of our host families to find out. First … a little background about the family.
Meet Mrs. P. She  lives in Paris's 5th arrondissement, in a quiet street near the Pantheon and the Luxembourg Gardens. Her home is in a mid 19th century Haussmann-style building, characteristic of Paris. Her  large apartment exudes charm being furnished in a classic style, typical of the French bourgeoisie. She often sees her 2 children (and 5 grand children) but now that they are married and have moved away,  she has been welcoming foreign students into her home and has done so for many years.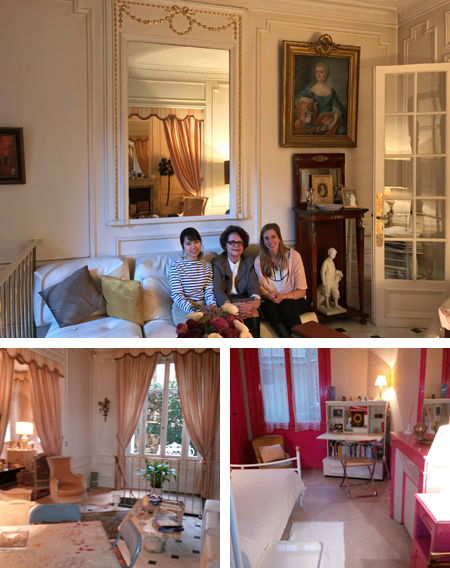 What made you decide to host international students?
I believe the best way to learn a language is to visit a country and spend time living in the local community. My own children have stayed with host families in England and the USA. So, when they left home to get married, I immediately thought of welcoming international students.
Why foreign students in particular?
Paris is such a beautiful city! So, helping foreign students discover the real Paris is a privilege for me. In return, I learn about their cultures and all the many differences and things we have in common … it is very enriching.
What kind of support to you provide to students?
As I have two rooms, I often host two students.  Our students never have the same nationality, the idea being that French will always be the language spoken at home. Once my students have been with me a few days, we organized a daily routine to suit everyone. I see them mostly in the evening,  especially if they take dinner with me. We talk about their day at school, news, their country, their family … all in French!
How much support do your students need?
It depends. Basically it's down to  a student's character rather than nationality. Some students are very independent and prefer to find things out for themselves whereas others will seek more advice and help.  I adapt myself to my students. I'm here if they need me.
What advice would you give to students?
Not to try to replicate their way of life in Paris. This is another country. Our homes are different, as are our routines, our eating habits and our social interaction. If they want live exactly as they do in their own home country, they will inevitably be disappointed.
Do you keep in contact with your students once they leave?
I'm always pleased to hear from past students. Only this week Yuki, a Japanese student from Tokyo who stayed with us in 2015, turned up in Paris and we invited her to dine with us.  She told me that she missed my cooking and that she would come back next year. Very sweet!