Pie News, a website dedicated to news about International Education, recently approached the CEO of LSI, David Immanuel, to discuss his views on a range of topics from LSI's background and future plans, the recent company merger, and the current issues and  trends in the Language Training Industry. Here are just a few snippets of the topics discussed.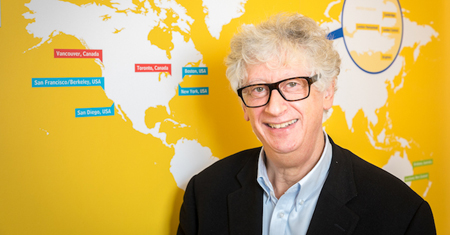 Pie News: How many language schools do you have now? And how has it changed since you started in 1970?
David Immanuel: We have 14 schools. And of course I also have the prep school. We started with two schools in London and Paris, and I've gradually built it up – the next one came in Germany, but you could say that my first serious language school was Berkeley in 1979.
When we organised the school, we modelled it on the Berlitz style of one to one teaching of foreign languages and we did quite well during the 70s, but then gradually English took over and for us the foreign language business in the UK shrank. We still do teach some foreign languages to a few companies but it's a very minor, minor part of it now.
And if you had said to me then I would have been doing it 46 years later, I'd have been shocked.
Pie News: You recently acquired LTC. Is finding schools and acquiring them now is that part of your strategy for expansion?
David Immanuel: Well it's slightly opportunistic ,… We work with strong individuals – the merger is going well. The [LTC] London school has closed by agreement, so we have by default inherited some of the business. I would definitely be interested in other opportunities if  they [mergers] came about, not only over here [UK] but also in the United States
Pie News: We often hear stakeholders say that general English is dead – nobody's interested in it. But others say English remains their biggest seller. Which is the case for you?
David Immanuel: Yes, I mean it's our core business. It's been our strongest year ever in Canada, New Zealand, Australia, so it's certainly not dead. There are a number of factors tying together have damaged the market: the finishing of the Saudi scholarships; the downturn of the currency in Brazil, Venezuela, Russia; economic problems, sanctions etc, … but there is a market. And new markets are opening up… South America opened up, and then Eastern Europe – there's Vietnam and there's the big one, China.
[In 2016] We opened a flagship school at $10m investment, we bought half a floor in a 20 storey in downtown New York. We've decided we are sharing the space now with a software training school, and I was just talking to them last night about a co-operation about programmes. I know there is space for that, but I think learning English will remain our core business
Pie News: So you talked about diversification, and lots of other people are trying to diversify through pathways. Is your sixth form college [in London]  a kind of pathway?
David Immanuel: The sixth form college is really about pathways, but doing it in the way of A Levels. We may well start foundation programmes from that college next year but if we do it, it will be one that's recognised by the whole group of universities, rather than running around trying to get one university to recognise it.
Click here for the  full interview on the Pie News Website.