The nuances and implications of behaviour around the world can be mind-boggling. The same gesture can mean totally different things in two different countries. For example, slurping your noodles in the USA can be quite rude, but in Japan, it is a sign of respect for the cook! Each country and culture has specific methods of interacting and demonstrating politeness, and especially for international business-people, learning these cues can be a big help to getting along and getting ahead in different settings.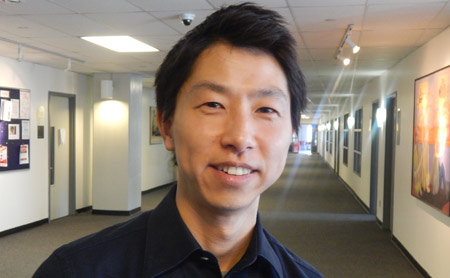 For Takao Kuki, a Mini Group student at LSI NYC, our international student body was a great source of information on global etiquette. He realized that students from around the world could clue him in on how to behave in different places and spaces. With the help of his teacher, Ada Petty, he designed, developed, and carried out a "World Etiquette Expo" where along with improving his English and making friends from other classes, he gained information about polite behaviours around the world.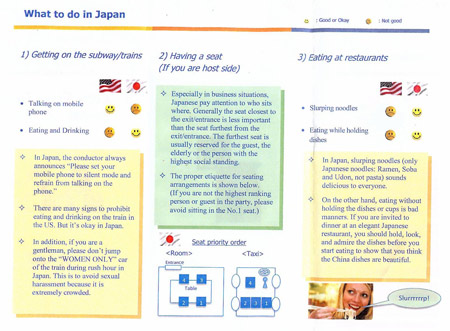 Takao's expo, set up on a table in the spacious hallway connecting our classrooms, had 5 different interactive elements: a presentation, a brochure, a video, a questionnaire, and a world map. The map was a big highlight of the event: students were encouraged to leave short blurbs about etiquette in their countries and cities stuck to the map on neon sticky notes. Watching the notes accumulate over the course of the two-day Expo really demonstrated the interactivity of the project, and it was also wonderful to see students pouring over the contributions from one another.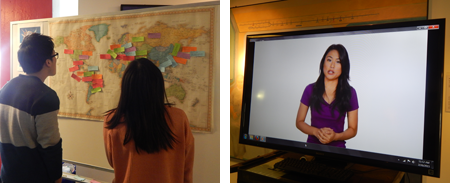 Takao, a consultant from Japan, was here at LSI for three weeks, combining our Mini Group 20 class in the morning with 5 individual lessons in the afternoon. He said that the Expo was an unforgettable capstone to his time here: "It was an impressive experience to communicate with worldwide students from the Middle East, Asia, South America and Europe. I was very, very happy to hear their positive comments." The Expo caused quite a buzz throughout our student body: at the monthly pizza party, students from different classes were caught in conversation with one another, comparing and contrasting rules of politeness they had seen on the map.
Many thanks to both Takao and Ada for this thought-provoking, fruitful Expo! This interactive project designed especially to suit the needs and objectives of one Mini Group student, Takao Kuki, had a multiplier effect, generating international discussion and understanding throughout our student body. Well done!