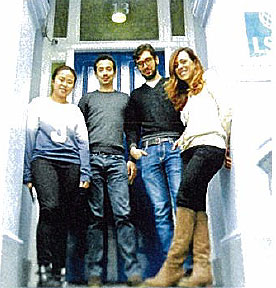 Teacher Delia Chandler is spear-heading an innovative new project at LSI Brighton. Under her expert guidance (Delia has spent 25 years in journalism, travelling and the arts), LSI students are learning the requisite skills to work in journalism, in graphic design and  in publications whilst improving their own language skills. However as Delia explains the main purpose of the publication is to 'inform, entertain, and ease the transition from [the student's] home country into the LSI language school community'.
The production of the newsletter had previously been used as part of an intermediate level class project but Delia decided to take the project one step further by offering students of all backgrounds and abilities the opportunity to put what they had learnt in class into action.
The  current students who make up the newsletter staff are pretty representative of the LSI Brighton student population, hailing from many different countries and working backgrounds. What unites them is their common interest in journalism, photography and graphic design. The newsletter staff are proving to both enthusiastic and committed, with the weekly newsroom meeting to discuss short story ideas and production issues, being well attended.
Check out the LSI Living Publications on the following links: