Here in Berkeley we like to celebrate the beginning of fall in style. All of Berkeley is abuzz with the return of students to courses at the UC Berkeley campus, just as students here at LSI are starting to buckle down.  With so much excitement in the air, we thought it was time for one of our favorite events: a good old fashioned potluck!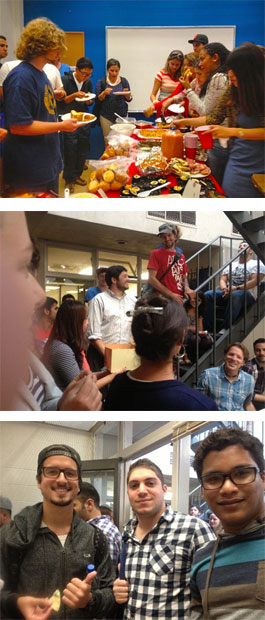 With students from over twenty countries sharing food from their hometown, it was a great opportunity to laugh and eat with friends, while also learning a little bit about the incredibly diverse cultures our students come from.  Students, teachers, and staff came together to share a meal that seemed to never end.  Some of the favorite contributions were: empanadas and brigadeiro from Brazil, risotto from Switzerland, sushi from Japan, latkes from New York City, a pineapple cake from Taiwan, and so much more!
As if this wasn't enough fun for one Friday afternoon, we also got to celebrate the birthday of one of our most loved and appreciated teachers, Andrew Peritore.  Andrew contributes so much to LSI, both inside and outside the classroom, and it was great to see him honored by the whole school at once.  Though we might have all grown a couple belt sizes, we couldn't be more excited to share the fall with such an amazing group of students.  And now on to Halloween!