On Friday 24th October  school director, Sally Muse, said a sad farewell after seven years at LSI London Hampstead. It was a poignant moment for all the staff at the school  as Sally has become such an established and valued member of the Hampstead team.
It only seems like yesterday when the then school director Tania  announced that one of our newly appointed teacher's was a dead ringer for American actress Cameron Diaz – that was our introduction to Sally!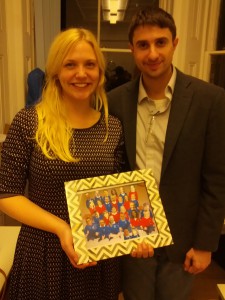 An amazing teacher ( student feedback can't be wrong !), and highly driven, Sally studied for both  her DELTA and a  Masters in TESOL whilst working as both a teacher and then Assistant School Director at London Hampstead. At times it's been gruelling as Sally worked hard,  putting in long hours to achieve the highest standards in both her work and studies – successfully so in both cases. Her highly professional approach was recognised by our management team and when the previous school director Greg relocated to our school in Berkeley,  Sally was the natural choice to replace him.
On Friday the staff at Hampstead organised a little 'goodbye' party. Just to ensure that she won't be  forgetting us too quickly, Sally was presented with a fun 'class'  photo of  the LSI London Hampstead staff ( in their younger days !)
" I've had a wonderful time at London Hampstead, " commented Sally.  "I've learnt so much and have had so much support from my colleagues. That's what I'm going to miss most – the staff and the students but I'm so excited about starting out  on a new phase of my life."
From everyone at LSI we wish Sally well with her upcoming wedding and plans to pursue a  career in EAP in a university setting back in her home town of Newcastle-Upon-Tyne.