New Courses & Facilities at Brighton, & Making the Most of the British Autumn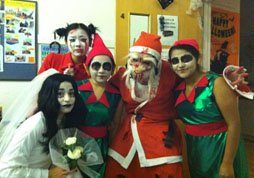 We are very excited here at LSI Brighton with our new Cambridge exam centre! With 15 computers specifically set up for Cambridge exams, students on our courses can now take the exam with us too. We are planning to run PET/KET, FCE and CAE from January 2013, with more exams being added all the time. Contact us for more details.
We are also delighted to be introducing a new evening course. Aimed at people who are already living and working in Brighton but would like to improve their English around their current commitments, the course takes place three nights a week, 6-7.45pm Tuesday-Thursday, and at £35/week represents an extremely cost-effective way to learn English. Please click the link above for more information or to book your place on the course.
Meanwhile, the party season has started! Last week we held another great party at the school, this time for Halloween, with some really amazing costumes made by our students. The winners of our best costume competition are shown here. Students also enjoyed a very traditional English evening at the famous Lewes Guy Fawkes night celebration.

Now that winter is arriving, we recommend you fight the cold with some lovely Mulled Wine (traditional hot, spiced wine) served at most pubs around the city.
We would like to wish the very best of luck to our FCE students, who are taking their exam in less than month. We believe in you guys!!
If you have any memories or photos of your time at LSI, please share them with us on the facebook page. If you are thinking of coming to join us at LSI Brighton, please get in contact if you have any questions on bri@lsi.edu.
Busy Having Fun at LSI Cambridge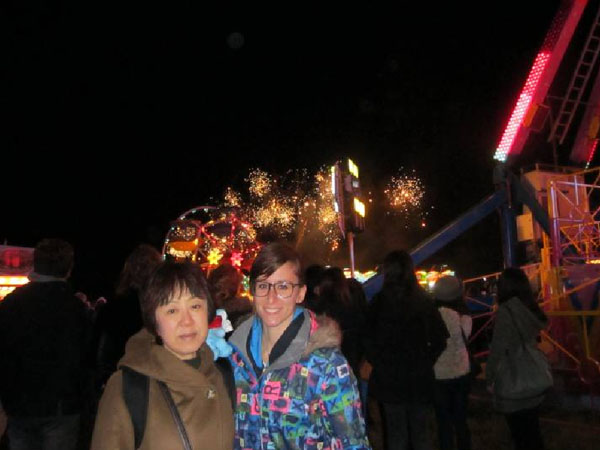 The annual LSI Cambridge Halloween Party produced lots of terrifying faces, some artistic carving and plenty of wet hair!
A lot of time and effort was put into preparing the costumes and the results were spectacular! Beatrice organised a Halloween Quiz, a pumpkin carving competition and the traditional games of 'apple bobbing'!  For the brave, there was also a late night showing of 'Boo!'
Hot on the heels of Halloween the annual fireworks display was a big hit with students. Over recent years, the Cambridge display has become quite famous throughout England and is now considered one of the very best!

A little quieter, but no less exciting, the Friday pub night offered the opportunity to sample traditional English beer (not fizzy and served warm!) at a traditional pub.
As well as being cultural, it also gave our students from all over the world a great chance to practice their English in the real world!
LSI Cambridge's Bowling team were also back in full swing, with some great scores and plenty of strikes!
A little bit of skill together with a 'whole lotta luck' made sure that everyone was the winner. Next month, with our training done, we hope to go into competition with another Cambridge language school. They don't stand a chance!
Improve your English
– Some useful phrases from this month's blog!
• To put time and effort into something
• Spectacular results
• To be a big hit with
• To be hot on the heels of something
• To be one of the (very) best
• A little + comparative adjective, but no +comparative adjective
• A whole lot of (lotta) luck
• To (not) stand a chance
• To be in full swing.
Can you work out the meaning from the context or by using a dictionary? Answers next time!
For more information about studying at LSI Cambridge, please contact us at cam@lsi.edu