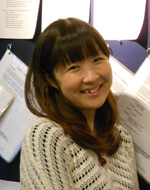 In spite of her diminutive size Ms. Kubota is a force to be reckoned with! Since her arrival here on March 1st, 2011, Ms. Kubota has become an integral part of the staff and wears many caps in the office:  at times receptionist, bulletin board art director, master office clerk, LSI NY Facebook page administrator, new student orientation guide and slang-of-the-week curator, Ms. Kubota is not one to shy away from a new challenge.
Currently 22 years old, Ms. Kubota will be a senior when she returns to Tokyo University of Foreign Studies where she is majoring in Spanish and Gender Studies. Upon completion of her studies, Ms. Kubota hopes to work for a NGO in the field of education, specifically in the developing world. Ms. Kubota is fluent in English, having spent six years of her childhood in Los Angeles, USA, where her father was transferred for work. 
Ms. Kubota says she is grateful for the experience of interning here at LSI New York. "So far it's been wonderful! One good thing about working in a language school is that I can meet students from many countries."  Ms. Kubota says she is learning valuable skills on the job, such as learning how to answer the phone and respond to students' questions in English. She also feels much more confident now when it comes to speaking in public: every Monday, Ms. Kubota is in charge of introducing the school's activities calendar to the new students at orientation.
Ms. Kubota also shared her insights about some of the differences between the workplace here in the USA and in Japan. "At my last job in Japan–a "cram" school where high school students are prepared for high school exams—the staff did everything together. There weren't specific tasks for each worker, whereas here in the US, everyone has a clearly defined position. Because of this, in Japan people may take less responsibly for their work since everyone shares in each other's mistakes."
Ms. Kubota says she enjoys living in New York City but misses Tokyo. She misses her family the most but also the clean and quiet underground service. Overall, Ms. Kubota is very satisfied with her experience here so far and will miss the camaraderie in the office of LSI NY. "I'm having so much fun here and I recommend this experience for any intern from abroad."
We wish Ms. Kubota the best of luck and hope she will not forget her family here at LSI New York when she returns to Japan in early December!  Genkidene,Mai!