LSI Berkeley had a successful summer with four new groups attending the school, two of which came from China. These two Chinese groups had about 33 students per group. Each group had a great time while in Berkeley and gave the school great reviews for homestay, activities, and the academic program.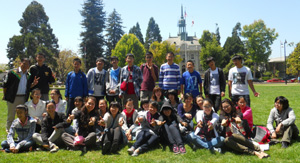 One student said, "I think my class is very active and I enjoyed my class. My teacher helped me a lot."
 Many students also felt that the homestay program was enriching, "This is really a dreamful experience. The host treated us well and I had a good time."
Our activity coordinator, Aiden, also showed the students the wonderful sights of Berkeley. Students toured UC Berkeley campus, roamed the Botanical Gardens, played sports in the park, and ended their final day with a pizza party celebration! We are so happy that these Chinese students could come to our school and hope that many more will come in the future.