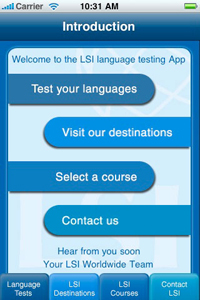 LSI's Language Test app has been downloaded over 10'000 times. For the two project managers Stephan Lendi and Ian Cryer (LSI Zurich ) it is not however time to relax.
"We are currently working on version 2.0, improving not only the graphics of the app, but adding further content, while improving the app structure," states Stephan.
In version 2.0 which can be expected in autumn 2010, vocal guidance is added in English, French, German, Italian, Spanish, Portuguese, Mandarin Chinese and Japanese. In addition to the multiple-choice grammar tests, version 2.0 enables students to test their listening, writing and even their speaking skills. With LSI being the first provider of iPhone/iPod app language tests, Ian Cryer and Stephan Lendi are confident, that version 2.0 will further strengthen the lead of LSI regarding iPhone/iPad language testing.
To find out more about our current Language test app you can visit out iPhone page or visit iTunes and type in LSI to download it.