At LSI we recognise that there are many ways in  which our students can learn and practice newly acquired language skills. We have always adopted many different techniques that often challenge students both inside and outside the classroom and encourage great team work. One recent example of this innovative teaching methodology occurred at our LSI San Diego school.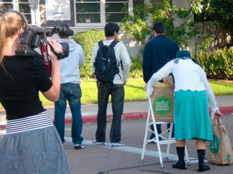 Teacher Jovana Poduje gave her Upper Intermediate class a unique opportunity to write and perform their own movie!  They spent time in the classroom writing their film, A Random Act of Kindness, which showed an old woman being helped by a stranger.
Jovana's friend, film maker Elizabeth Spitsbergen, volunteered to help them out.  Here you can see the class on a Saturday afternoon while Elizabeth films them. All the students claimed that they had thoroughly enjoyed the experience and would love to do it again.