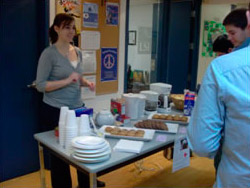 During the week of January 25th, 2010, staff and students at LSI Toronto worked together to raise money for earthquake relief. Our staff and teachers cooked a pancake breakfast for the students before class. The hot breakfast was certainly welcome on a winter day! Kiley Woods, our Director of Studies, organized a bake sale, with delicious goodies from her own kitchen.
Students bought LSI mugs to paint and design, and we saw some really creative artwork!
By the end of the week we had collected $300, which will be matched by the Canadian government, so we actually contributed $600 to the people of Haiti! Well done, everyone!