Helen Davaran, school director at LSI Berkeley, will be leaving us after 27 wonderful years at LSI. Helen wanted to send the following message to her many friends and colleagues at LSI.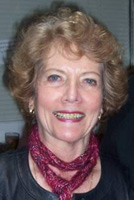 "I am writing to tell you that I will be stepping down from my position as Director of LSI Berkeley at the end of April. I will continue working on some projects for LSI from home on a part-time basis until the end of the year.
When I began at LSI Berkeley, in February 1982, I could never have imagined that I would have remained for 27 years. I thought it would be a temporary assignment, and my husband and I would return to our life and teaching in Iran, where we had lived for almost 7 years, prior to and following the Iranian revolution; I actually lived very close to the American Embassy throughout most of the American hostage crises, which was quite an exciting time. Obviously we never returned there and stayed on in Berkeley.
Time really does fly! When I first arrived at LSI, Berkeley was the only LSI school in the USA. I have had the opportunity to be involved in the growth and development of the USA schools with San Diego opening in1989, followed by Boston and New York. As some of you may recall, we also organized and operated very successful summertime programs on various college campuses in Florida, Los Angeles, as well as in New York City in those early years. Additionally LSI itself has grown worldwide and become internationally recognized and accredited.
I want to thank all of you whom I have worked with; while I will miss the daily interaction with my colleagues, as well as with our wonderful students and agents, I am looking forward to taking it easy and enjoying some free time. Hopefully I will have the opportunity to travel and perhaps visit with some of you in the future.
Again, a big thank you to all of you, and please feel free to keep in touch with me. I would love to hear from you."
As a parting farewell , LSI Berkeley held a party for Helen. Why not see how the party went by viewing our YouTube video.