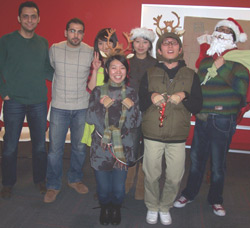 Studying at one of  LSI's many language schools can be a great experience, not to mention tremendous fun. Why not view some of our vidoes clips posted on Youtube?
One example is LSI New York's 2008 end-of-the-year holiday bash showing two skits which have now been posted on Youtube! To see a combined pre-intermediate class song and dance version of Jingle Bell Rock go to: YouTube – the Jingle Bell Rock . Another combined group of post-intermediate and advanced students created a witty comedy skit about customs and immigration in the United States – complete with a Naomi Campbell impersonation. To see excerpts go to: YouTube – Naomi Campbell in Customs and Immigration
We're very proud of the range of creativity demonstrated by our teachers and students here at LSI New York, and in all our many schools!