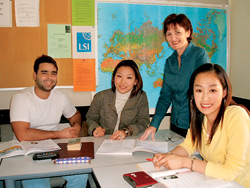 Brand new for 2009 , LSI are offering  the exciting TKT course to students who, as non native speakers of English, would like to learn more about teaching English. The TKT (Teaching Knowledge Test), one of the widely respected Cambridge ESOL examinations, is ideal for all existing teachers whatever their back ground as well as those who would like to take up teaching. Although the TKT is not a teaching qualification in itself, the course content is primarily about the teaching of English and will therefore give any potential student a good foundation to pursue any further teaching qualification.
The course focuses are the following key areas:
the different methodologies of teaching
the 'language of teaching'
finding, creating and effectively using resources
the main aspects of effective lesson planning
classroom management methods for different needs
As a highly specialised course , the course is presently only offered in some of our language schools. At present the following schools offer TKT :
In Canada – LSI Vancouver
In England – LSI Cambridge
In the USA – LSI New York and LSI San Diego
In New Zealand – LSI Auckland
In Australia – LSI Brisbane.
To read more about our TKT course and dates when this course is available , please read our TKT information sheet.