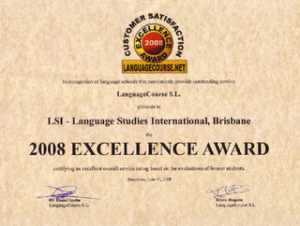 Brisbane – Good news as LSI Brisbane is once again recognised for its academic and service achievements, this time by global giant Language course.net.
Based on a review of over one thousand of its clients LSI Brisbane's feedback was universally excellent. The criteria was customer satisfaction about the quality of services provided by various academic institutions.
The win came as no surprise to Business Development Co-ordinator Laurence Stallman "I feel, that although this is obviously an honour, it is also deserved recognition of all the hard work that LSI Brisbane's staff do." Principal Ronda Dove added "this is an extremely pleasing result".
However LSI Brisbane will not become complacent and will continue to strive to improve services and maintain a professional but friendly atmosphere. We would like to add our thanks to our colleagues at LSI worldwide for helping us. Well done also to LSI San Diego which also picked up an award!