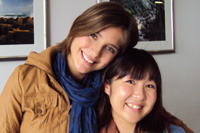 For the past three weeks LSI New York have had the pleasure of hosting Tammy Campos Di Calafiori as a student at the school.  The NY Director of studies, Kerry Linder, managed to catch up with this accomplished young actress from Rio de Janeiro, Brazil after one of the afternoon classes and took the opportunity to find out more about this famous actress …
In her native country, Tammy is best known as "Lorena," one of the stars of the daytime "novela" Passione. In this popular soap opera, Tammy is part of a love triangle involving her mother and her mother's boyfriend! Here she is in action.   Recently, Tammy also played the role in the feature film A Suprema Felicidade by acclaimed director/screenwriter Arnaldo Jabor; in this period film, Tammy takes on the part of an ingénue stripper, a role she told me she thoroughly enjoyed researching and playing.
In spite of her star quality, intrinsic beauty and accomplishments at such a young age, Tammy is surprisingly down to earth and friendly, and comes to us after having completed an acting course combining the Suzuki Method and Viewpoints, at SITI Company in NYC. Like Tammy, a growing number of young creative professionals attending LSI New York are choosing to combine an intensive language program with specialized study in their field here in NYC, be it in acting, photography, dance, or some other artistic discipline.
Tammy, whose course is being sponsored by our partner in Brazil SIS Intercâmbio, says she enjoys taking the subway and walking in New York without being recognized. Regarding her courses here at LSI, Tammy says she is very satisfied and plans to extend her course and return to LSI New York at a later date. "I like studying here because I can make friends from all over the world and I get a lot of practice. I really like this school and I think the teachers and methodology are very good. My teacher Anna is great! This week for class, we had to research a famous person and give a presentation to the rest of class. I did a presentation on the artist Jackson Pollock; next time I am thinking of doing a presentation on my city, Rio de Janeiro!"
No doubt we will be hearing a lot more about this talented young actress in the years to come. We certainly look forward to hosting her when she is back in NYC. In the mean time, we wish Tammy boa sorte which means "good luck" in her native Portuguese!