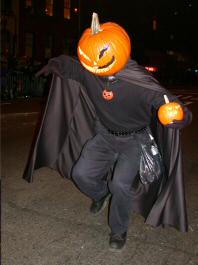 On October 31st many of the LSI schools celebrated Halloween. Whether studying at our schools in the UK, Canada or USA many students got the opportunity to participate in the many traditions that surround Halloween.
Did you know that the name Halloween comes from the religious festival of 'All Hallows Eve'? Originally a Northern european pagan festival , All Hallows marked the end of harvest, a time when the spirits of the dead could deliver ill omens on the living. Bonfires were often lit on this night to ward off these evils spirits.
These days however, Halloween is simply a time to have some fun. Why not read on and see what some of the LSI students got up to at Halloween?
In New York some of our students attended the annual Greenwich Village Halloween Parade. Many of the LSI students wore halloween costumes and joined in the parade which featured hundreds of giant size puppets, musical acts, floats, circus performers and thousands of other New Yorkers dressed in costumes of their own creation. The parade stretched for more than a mile and always marches up 6th Avenue through Greenwich Village, a neighborhood known as the bohemian capital of the 1950's and 60's, and birthplace of the Beat Movement. The parade is touted as the most wildly creative public participatory event in the United States. Our students had a great time as for many it was the first time they had ever celebrated Halloween.
Perhaps next year it will be your turn to celebrate Halloween at one of the many LSI language schools.